Whenever out of town guests visit San Francisco I take them on "The Perfect Driving Tour" of San Francisco. Hitting just about every major scenic point, vista, short hike, as well as fun lunch and coffee spots.  We'll hit some of the most popular tourist attractions including driving down San Francisco's "crookedest street", to visiting the Marin Headlands, Twin Peaks, and neighborhoods like the Castro, the Haight, and Cow Hollow.
Since I just got a request for what to do on a short trip to San Francisco from an old college friend, I went ahead and mapped it out for her, and now sharing with the world in this article.  She's staying at the Cavallo Point Lodge in Sausalito, so that's where this particular trip starts and ends.  It's an interesting spot too – not one I've included on my personal driving tours of San Francisco, but since driving through Sausalito and stopping for a meal there usually is on my tours, I'll use this as a substitute.
Keep this article open while touring, and use the "Next Stop" link.  This article includes stop by stop descriptions explaining why I'm sending you that way, and what to do and see.  Since each address is also a link to Google Maps, a smart phone with GPS will have you driving around as if you're a local.  One last tip before we get started – if you're starting from somewhere else in the City, start at any of the "Next Stop" locations, and once you get to the end skip to the "Marin Headlands" stop and continue on again.  Here we start from Cavallo Point Lodge.

As you can see Cavallo Point is a gorgeous spot with views of the Golden Gate Bridge. And this tour starts with my single favorite scenic spot – the Marin Headlands, and its multiple views of the Golden Gate Bridge.
First Stop:
Marin Headlands State Park, Mill Valley, CA
I love this view so much that each time I visit I think I should have packed a lunch just to have an excuse to hang out longer.  There are several stops you can make to get a different vantage point of the Golden Gate Bridge, the Bay and the City, and I recommend stopping at each of them.  But whatever you do, make sure you go all the way to the top of the Headlands to get the highest possible view.  It is truly stunning up there.  Then on your way back down stop at the last possible spot which requires a walk over a rugged path where you'll feel so close to the Bridge that you can touch it.  Of course from here, or on the other side of the Bridge you can stop and walk across the bridge, but today is a driving tour, and we've got a lot to do and see.
Next stop:
Legion of Honor, 100 34th Ave, San Francisco, CA
The Legion of Honor isn't on our list of things to do. The idea behind this driving tour is to see every possible view, and drive the most scenic routes. If I sent you direct to your next destination which is the Sutro Baths and Lands End hiking trail, Google Maps would take you the non-scenic way. So by making the Legion of Honor a "destination" that you aren't stopping at you're going to drive over the Golden Gate Bridge, turn right along the cliffs overlooking the Bay, drive right past Baker Beach, a very worthwhile stop on any other day – especially if it is warm – and through one of San Francisco's poshest neighborhoods where many celebrities have lived or live there now, and then past more scenic points including the 17th hole at the Lincoln Park Golf Course.
This gets us to why this is the "perfect" 1 day tour of San Francisco.  Each person will have their own interests and favorite spots.  For instance, some golf, and others don't.  If you're a golfer plan this for another day on your trip.  For only $42 a non-resident can play a round on a weekend.  I don't know where you come from, but I'm from the Upper West Side of Manhattan, and just getting on a course anywhere near the City, let alone within it, is almost impossible, and if you then told me I only had to pay $42 I might laugh at you.  Not only that, but the 17th hole feels like you're playing Pebble Beach.  Check out this video of what you'll see – which is far more stunning in person.

Our next stop will be the Lands End Hiking Trail and Sutro Baths. Before we get there I should point out that the 17th hole is essentially a part of the Land End trail. So you can stop here for a few photos, and if you're ready for a long but easy hike you can certainly start here, but to squeeze everything we want to do in one day I'm suggesting you start the trail by the Sutro Baths, hike about half of it, and return to your car.
To see a map of the hiking trail click here
Next Stop:
Lands End Lookout Visitors Center, Point Lobos Avenue, San Francisco, CA

You're going to park in the Lookout parking lot, or continue on down to the Sutro Baths and try to find a spot near the Cliff House restaurant which will then require a hike back up the hill. Hike as much or as little as you like. Don't worry, you're next stop is lunch.
Next Stop:
For lunch I'm sending you just down the hill to the Beach Chalet Brewery & Restaurant, Great Highway, San Francisco, CA

You can also stop at the Cliff House for lunch. The point of both is mostly for the views, but if you want a micro brew, then the Beach Chalet is the place to go.
OK, so you had a great lunch, and we're off to see 360 degree views of the entire City and the 3 bodies of water that have us virtually surrounded.
Next Stop:
Christmas Tree Point Road, San Francisco, CA


Hopefully you've got the energy to climb up to the highest point. You'll be parking in the outlook parking lot, and that has great views. But if you can make it up the hiking trail which starts across the roadway you'll be at one of the highest points in the entire City and see the Ocean to the West where you just had lunch, the Bay to the East where you can make out AT&T Park, the Bay Bridge, Oakland and even Candlestick Park. And of course the Bay to the north (where you'll be heading shortly) and the Golden Gate Bridge. Stunning, trust me.
While we're not done with views, it is time to get local. San Francisco has two famous neighborhoods that everyone is going to ask if you saw, so you might as well visit them and see what they're all about.
Next Stop:
Castro St & 18th St, San Francisco, CA


The Castro is a fun eclectic set of blocks famous as a gay hub. You can just drive through or park at a metered spot and stroll along Castro Street just to say you've been there, and of course people watch, which is a fun sport throughout the City.
Next Stop:
Haight St & Ashbury St San Francisco, CA 94117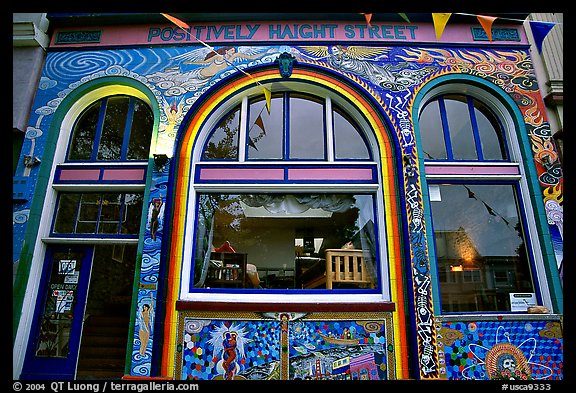 Colorful shops and strung out kids today, this was the hub for the Grateful Dead and a vibrant 1960's hippie history. Again, you can just drive slowly down the street people watching and window shopping, or park and take a stroll and try to feel the history or stop for a cup of coffee.
Next Stop:
Steinter St & Hayes St, San Francisco, CA

These are the "Painted Ladies". The postcard you'll see in every tourist shop, and where the TV show "Full House" was set. You can stop and take some photos from Alamo Square Park, or just zip on by and continue on to our next neighborhood tours.
Next Stop:
Chestnut St & Divisadero St, San Francisco, CA


We're headed to my neighborhood, the Marina. But to get there Google Maps is taking us along Divisadero Street which will be the least scenic thing you do, until you start climbing the hill up to Pacific Heights. From Divisadero St and around Broadway you can start to veer in all kinds of directions if you want to get a look at some amazing mansions and architecture, but again, this is a driving tour, so if that is your thing add it to your list of places to return to. From here you can hike the Lyon Street Steps competing for space with the many athletes and wanna be's struggling to do their 1st or 10th trip up the scenic stairs, but you'll have done enough hiking today on far more scenic spots, and we still have a long way to go. So for now, snap some photos as you start to descend Divisadero Street, and then once you hit Chestnut Street, turn right and decide whether it is time for a stroll through this Marina District hot spot, or just a slow drive of people watching.
Next Stop:
Chestnut St & Fillmore St, San Francisco, CA
This stop is purely to get Google Maps to send you the way I think you'd enjoy the most. All you are doing here is driving down Chestnut Street where you'll pass coffee shops, restaurants, bars and all kinds of specialty shops. If you need a break, a drink in the backyard area of the Tipsy Pig, or sit at the window inside the Horse Shoe Bar, etc. You can come back here another time for a movie at one of the two movie theaters, or bar hop to your hearts content with locals and tourists alike.
Next Stop:
Fillmore St & Union St, San Francisco, CA

Speaking of bar hopping, this leg of just a few short blocks takes you past "The Triangle". 3 bars on 4 corners on Fillmore St at Greenwich St. For the older crowd stick with the Balboa. Younger at City Tavern (now called a "Mexican Kitchen and Cocktail Bar" called Sabrosa), and depending on the time East Side West will usually be one or the other. Each serves food too, and since they are bar-restaurants your kids are allowed. But again, this is a driving tour where you stop when you choose, and we're heading along yet another commercial shopping district next where you'll find more of the same. That's Union Street, where you'll be turning left.
Next Stop:
Union St & Gough St, San Francisco, CA
This is Cow Hollow. This is just another local's hot spot – just like Chestnut Street, Castro Street, Fillmore Street – and of course there are others we haven't gotten to yet, or aren't hitting at all since you can't possibly do the entire City in one day. But this leg of the drive is more shops, restaurants, stop signs and people watching. For example, if you're a fan of the Bachelorette you may remember "Ali" window shopping on Union Street and describing it as her neighborhood.
Next Stop:
Union St & Hyde St, San Francisco, CA
This leg sends you through and to Russian Hill. You can stop off at Polk Street along the way, but that's just another "hot spot" commercial district street, and by now you've probably had enough coffee, drinks and window shopping, so get to Hyde Street, and turn left.

Next Stop:
Hyde St & Lombard St, San Francisco, CA
Ha, ha, I tricked Google Maps, and so we're cutting off a LOOOOOOONG line of tourists waiting on Lombard Street to get to the "crookedest" street in San Francisco (it isn't actually, but that's for another day). Yes, Google Maps would have you on the "highway" known as 101 or Lombard Street, but you're on Hyde Street where the cable cars go by. As you get to Lombard make a right and grab your camera for the slow trip down.
Next Stop:
Lombard st & Leavenworth St San Francisco, CA
This just gets you down the hill. Stop for a picture, or keep going.
Next Stop:
Coit Tower, Telegraph Hill Boulevard, San Francisco, CA


You've seen so many views already, that you can just drive up here to say you've seen it. A monument to the firefighters of the 1906 earthquake, this tower takes the shape of a fire hose. The views at the top are nice, but they don't compare to what you've already seen. Come back here another day, or plan a stop for dinner on Columbus Ave which is North Beach's main drag, or divert off to China Town which I'm also skipping over since again, you can't possibly see everything in one day. But this is the section of the City you're in, so if those are the places you really want to go, be sure to head south on Columbus Ave and don't go past Broadway unless you want to see downtown and the financial district (snooze). We're also skipping the Ferry Building, the Embarcadero, and one of my personal favorites in the entire City, AT&T Park and a Giants game. So add those onto your list for other days.
Next Stop:
The Buena Vista Cafe, Hyde Street, San Francisco, CA


I'm not a fan of sending tourists to the Wharf. They always find themselves there no matter what I say. Instead, I'm encouraging you to try the world famous Irish Coffee's at the Buena Vista Cafe. From here you can walk through the Wharf, or along Aquatic Park and from there up the hill to Fort Mason – very scenic if you're up for another short hike. On another day you can hop on a cable car and head back up the hill passing the "crookedest" street and head all the way to Market Street and Union Square where you can shop. But, on my trip you're getting a cup of coffee, or spiked Irish coffee, and heading on your way as it is probably getting late.
Next Stop:
Crissy Field Ave, San Francisco, CA


This leg will take you past $5 million dollar homes along Marina Boulevard where America's Cup will be taking place (took place) in the summer of 2013. As of today (sadly not anymore) they can be seen practicing. You can also make a left on to Baker Street and stop at The Palace of Fine Arts.  It is incredibly scenic and a great spot for a picnic.  But the destination I've mapped out for you here are any of the various beaches leading up to the base on the Golden Gate Bridge. Choose for yourself where to stop, and how far you go, but on a nice day one of my favorite beaches is the very last one before the final path to the Golden Gate Bridge.  You may even get to see multiple kite boarders and wind surfers racing across the Bay from here.  You can stop at the Warming Hut if you want a snack or it is cold, or drive all the way to the base of the bridge to see what its like from down there.
LAST STOP:
Cavallo Point Lodge, 601 Murray Cir, Sausalito, CA


Google Maps should take you up a small hill and past an outlook area where you'll see the above view. Stop, or drive right past it and head on home back over the Golden Gate Bridge, where who knows, maybe you'll want to see the sunset from the Marin Headlands where you started the day. If you're ready for dinner, keep going down the hill past Cavallo Point along the windy and scenic road that leads you into downtown Sausalito where you're find plenty of dinner spots.
Tomorrow you'll have a long list of places you wanted to spend more time getting to know. Today, you've gotten a locals tour of San Francisco, from a Realtor who drives many of these streets every single day. I offer to take friends on this trip every time because I enjoy the scenery and the Irish Coffee's as much as they do.
If you're using this article to complete your tour, let everyone know what you think with a comment below.  And since I originally wrote this is 2013 let me know if I need to edit anything.  For example, the Lombard crooked street is facing possible closure to cars on weekends.  There was a 2014 experiment which has now ended.  And if you think something else just has to be on this tour, please chime in.